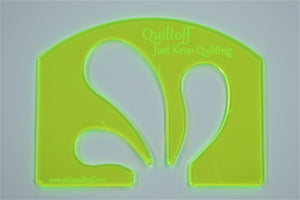 Dimensions:
7 3/4" x 5 3/4"
Upper curve 7" radius
Great ruler for both longarm Quilters and domestic machine Quilters.
Works great for basic ruler work.
The ruler comes in green neon colors. it is wonderfully seen on a quilt, so you will forget about losing your clear ruler - that happened to me a lot!
Guidelines for easier positioning, extra-large space for safe grip and stability. Three sizes of loops. Reversible.
Nominal 1/4" Thick (actual thickness will be approximately .189" to .250").
Watch the tutorial here: https://youtu.be/-0CxMCuocbY
The material is high-quality 1/4" acrylic, non-toxic with beautiful laser cutting and engraving - I inspect every ruler.