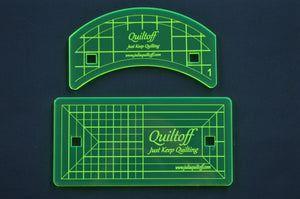 Set of handy mini rulers. Great for longarms - intricate designs, stitch in the ditch, outlining; and for domestic machine Quilters! Very easy to hold in place, nice size.
Curve 3"x5"
Rectangle 3"x6"
Work great for basic ruler work.
The rulers come in green neon color. These ones are wonderfully seen on a quilt, so you will forget about losing your clear ruler - that happened to me a lot!
The material is high-quality 1/4" acrylic, non-toxic with beautiful laser cutting and engraving - I inspect every ruler.
Nominal 1/4" Thick (actual thickness will be approximately .189" to .250").